1st September 2020
Welcome!
Welcome to the latest monthly Business e-newsletter.

In this edition we bring you the latest updates on COVID -19, regional and state wide support opportunities, events, news and more. We also encourage you to complete the Australian Business Economic Impact Survey to understand the local impact of COVID - 19.

We want this newsletter to be valuable to you so please share your feedback and suggestions to help us improve.


COVID -19 Update
Regional Victoria is in Stage 3 Stay at Home Restrictions.
For a summary of the Stage 3 restrictions, please read this document on the Council website.
To stay updated on Council services visit - http://www.moyne.vic.gov.au/Emergencies/Coronavirus-COVID-19.
COVIDSafe Plans


COVIDSafe Plans are advised for regional Victoria if you are a high-risk industry (construction, warehousing and distribution, supermarket and medical distribution centres). If you are an abattoir or meat processing facility (including seafood and poultry), you must complete a High Risk COVIDSafe Plan regardless of where you operate in Victoria.

For information and resources to help your business prepare a COVIDSafe Plan visit the Business Victoria website.
Regional Growth Summit 2 starting soon!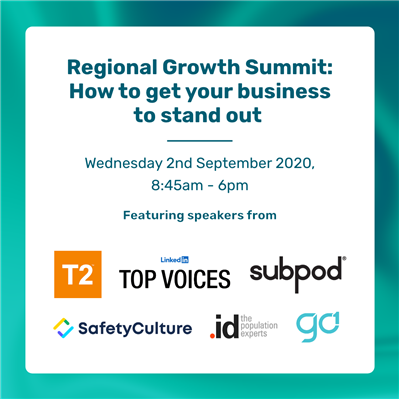 Join us live for the second round of the Regional Growth Summit starting 2nd September, 8:45AM -6:00PM.
Register here:

https://bit.ly/RGSSep2020

and use code MoyneRGSPass to make it FREE. All sessions will be recorded for ongoing access.



Sessions for the day will feature:
Australia-wide COVID-19 impact and trends from economist Rob Hall at .id.

Scaling a business and understanding risks and culture from Unicorn, SafetyCulture.

Human-centred strategic marketing masterclass with Sam Hurley at 25eight.

Building your personal brand and why it matters, Linked In's Top Voice

String

Nguyen.

Going global while supporting the local economy from tech start-up Go1.

Growing an iconic hospitality business in a small town with Royal Mail Hotel, Dunkeld.

Backyard innovation to global market with Subpod's Saadi Allan

How to build resilience in a changing business environment with T2's Global Director, Derek Muirhead with Sam Leetham, CEO of Byron Bay's Bear Ltd.

Virtual networking and ongoing access to learning through recordings.
Localised Meet Up - Great South Coast
You're invited to come along to the first Localised Great South Coast Meetup! It's a great way to connect and meet other local people in business and organisations from across our region, plus get some business tips from local experts.

If you run a business in the Great South Coast, then you need to come along – it's FREE. Meet new people, make business connections and introduce yourself and your business in a Lightning Pitch (only 20 seconds!)

Guest speaker: Chris from Ceebeks Business Solutions for GOOD.

Register via this link: https://ticketing.localised.com.au/events/localised-meetup-great-south-coast
Are you a business owner in the Moyne Shire who benefits from visitors?
As a business who benefits from tourism in Moyne, the Great Ocean Road Regional Tourism (GORRT) in partnership with Visit Victoria and Moyne Shire Council is offering a FREE 12 month membership with GORRT and your local tourism association, backed by a team of tourism specialists if you register before the end of October 2020.

This includes more online exposure, marketing opportunities and advertising campaigns that aim to keep our region and your business top of mind.

For more detail on what's included for you and to gain local support, please call Council's visitor services team (Ashley or Renee): @portfairyvic Phone: (03) 5568 2682. Email: vic@moyne.vic.gov.au
For greater detail, visit the following webpage for more information on the offer: https://www.portfairyaustralia.com.au/atdw-subsidy

Remember, we are all in this together!
Free Financial Counselling Support for Regional Businesses

The Australian government has expanded its Rural Financial Counselling program to assist small regional businesses affected by COVID-19 to access free and confidential financial counselling. The program aims to help small businesses understand their financial position, identify options, implement plans and access the immediate assistance they need to
keep afloat and navigate the road to recovery.
This service is available to small regional business experiencing, or at risk of, financial hardship due to the impacts of drought or COVID‑19.
Small business financial counsellors can help:
understand the financial position and the viability of the business

identify options to manage the financial issues of the business

develop budgets and cash flows

create and implement an action plan to work towards the business goals

negotiate with lenders and access dispute resolution services

identify other government and community grants, programs or schemes

access broader professional advice and support.
This expanded program is currently running until 30 June 2021.To access the service, contact the Rural Financial Counselling Service for the south west and Wimmera region on 1300735578 or visit the website at www.wswrcs.com.au
Victorian Country Market - Click for Vic Campaign
The Victorian Country Market is part of the "Click for Vic" campaign that aims to support business recovery. It is an e-commerce site that provides an avenue for regional businesses to market and sell the best they have to offer.

The campaign and online market platform is helping Victorian farmers and producers to diversify into online markets by providing training and support to help build a sustainable online presence.

Take a trip through the best Victoria has to offer in one huge market by clicking on the link - https://viccm.rechargevic.com.au/

Explore some of the products currently listed for the Great South Coast region here and if you are a local producer and would like your products to be listed on the site, please sign up here or visit: https://corporate.visitvictoria.com/clickforvic
Australian Business Economic Impact Survey (ABEIS) and Analysis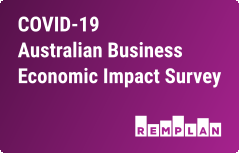 The Australian Business Economic Impact Survey (ABEIS) administered by REMPLAN is an initiative to respond to the rapid change experienced by businesses as a result of COVID-19 and the need for insights at a local geographic scale. It provides valuable insights into the business and economic implications of COVID-19 and the associated policies to manage the health crisis.
Recent analysis on the impact of COVID -19 in Moyne indicates a drop in employment and output by 6.4% and 9.5% respectively while 20.7% of local businesses have applied for the Jobkeeper scheme. For further detail access on the impact analysis, please visit the Moyne public-access Economy Profile here.
The survey remains open and available for all businesses and we encourage you to take the survey and provide your valuable insights into how COVID - 19 is affecting your operations. The more we can understand the local impacts, the better placed we will all be to take targeted, strategic actions to support local workers, businesses and economies. Please click on the link below to complete the survey - https://surveys.remplan.com.au/s3/REMPLAN-COVID-19-ABEIS
Hospitality Business Grant Program
The Victorian government recently announced the Hospitality Business Grant Program to support food service businesses
impacted by the return to Stage 3 'Stay at Home' restrictions.
Eligible businesses will be provided with a one-off, $25,000 grant to support continued business operation.


Meeting business costs, including utilities, salaries or rent;

Seeking financial, legal or other advice to support business continuity planning;

Developing the business through marketing and communications activities; or

Any other supporting activities related to the operation of the business.
Small Business Fund - Expansion Program
To support businesses impacted by the reintroduction of Stage 3 restrictions across regional Victoria, a one-off $5,000 grant is available to eligible businesses under the Business Support Fund – Expansion program. To be eligible for the Fund, businesses must:
Operate a business located within Victoria; and

Be a participant in the Commonwealth Government's JobKeeper Payment scheme1; and

Employ people and be registered with WorkSafe on 30 June 2020; and

Have an annual payroll of less than $3 million in 2019-20 on an ungrouped basis; and

Be registered for Goods and Services Tax (GST) on 30 June 20205 ; and

Hold an Australian Business Number (ABN) and have held that ABN at 30 June 2020; and

Be registered with the responsible Federal or State regulator.
For more information visit: Business Support Fund - Expansion Program or Business Support Fund – Expansion FAQ's and Guidelines

Business Events and Short Courses
  Small Business Victoria Workshops
The Small Business workshops delivered in partnership with Moyne Shire Council will continue via online delivery and be free of charge until the end of September 2020. Upcoming workshops will cover the following topics:
Winning Government Business - What you need to know
To find out more and to register please visit the

Business Events

page on the Moyne Shire Council website.
Upskill My Business
The Victorian Government has partnered with key industry groups and top education providers to present virtual professional-learning opportunities to small business owners impacted by the COVID-19 pandemic.

Upskill My Business gives small business owners and their teams access to free online training from leading learning institutions.

Get practical help with free online courses, live and on-demand events and a range of business resources to help you prepare for a strong recovery.

Information on the range of free online programs, short courses and events is available at https://upskill.business.vic.gov.au/ or through the Business Victoria hotline (13 22 15).
Separate Your Recyclables 
We're calling on you to separate glass from other recyclables – use the purple glass only bin, put zero glass in the yellow bin.
Since the introduction of our four kerbside bins system, we are only collecting materials in the yellow bins that can be recycled here in Australia. This includes only plastics with the recycling symbol 1 or 2, paper, cardboard, aluminium and steel cans.
Soft plastics, long-life and tetra-paks cannot be recycled in Australia and need to be disposed of in the red bins.
For more information on the correct use of the four kerbside bins, including a Better4Moyne video, visit Council's website moyne.vic.gov.au/better4moyne.
Contact Us
For further information about our service or if you need help with accessing any of the resources provided, please contact Council's Economic Development Team: