1st October 2020
Welcome!
Welcome to the October edition of the monthly Business e-newsletter.

In this edition we bring you the latest updates on COVID -19 Steps to Recovery, information on the new outdoor dining options for hospitality businesses, statewide and regional support opportunities, events, news and more.

We want this newsletter to be valuable to you so please share your feedback and suggestions to help us improve.


COVID Update - Steps in the right direction
From 17 September 2020, Regional Victoria entered Step 3 of the Victorian Government's Roadmap. For a summary of the State Government's Steps toward COVID Normal, please visit the Victorian government Coronavirus website. There are also some good compliance guidelines for industry sectors on the Business Victoria website. Information on Council services are available from our website - here as well as news and information from our Facebook page.
All businesses in Victoria must have a COVIDSafe Plan. For information and resources to help your business prepare a COVIDSafe Plan visit the Business Victoria website. Of particular interest for dairy farmers, please refer to this link - Victorian COVIDSafe Plan template for dairy farms.
Businesses must review and update their COVIDSafe Plans routinely, especially when restrictions or public health advice changes.

Outdoor Dining Options for Local Businesses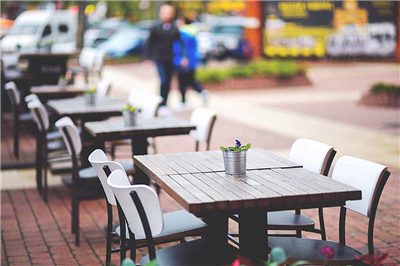 With Regional Victoria moving into the third Step of the Victorian Government's reopening roadmap, hospitality businesses are now allowed to open for outdoor dining.
Moyne Shire Council is here to make it easy for hospitality businesses to either start or expand their outdoor dining footprint to maximise the number of customers that are able to dine.

The following capacity limits apply for hospitality venues in regional Victoria under the third Step:
Outdoor areas

One person per two square metres with up to 50 per venue

Outdoor spaces may have a temporary or fixed cover (e.g. awning or roof) so long as such cover has at least two open sides for airflow
Indoor areas
One person per 4 square metres with up to 10 per space, and no more than 20 per venue

Each indoor space must be separated by permanent structures or be an area of the premises that is sufficiently separated from any other area of the premises.
Tables/ Bookings
Patrons must be seated so that they are 1.5m away from any patron in an adjacent group, and no more than 10 patrons per table/booking.
A State Government grant of up to $5,000 is now be available for eligible hospitality businesses to

pay for the practical things like umbrellas, outdoor furniture, screens and other equipment which will help move the indoor dining and cafe experiences outdoors. Grants can also assist businesses with training, marketing and other costs associated with adapting new or expanding existing outdoor dining or entertainment. For further information and steps to consider before setting up or applying for your outdoor dining, please visit the Outdoor dining options page on our website - http://www.moyne.vic.gov.au/Emergencies/Coronavirus-COVID-19/COVID19-Response-Resources-for-Businesses#section-2


To discuss your outdoor dining options, please contact the Local Laws team on 03 55680567 or send an email to moyne@moyne.vic.gov.au

State Government Grants - Business Resilience Package
The Victorian Government is investing $3 billion in cash grants, tax relief and cashflow support to Victorian businesses that have been most affected by coronavirus (COVID-19). The following grants are part of the State Government Business Resilience Package.
Sole Trader Support Fund
Applications are now open for the Victorian Government's Sole Trader Support Fund. You may be eligible for a $3000 grant if you are a non-employing Victorian sole trader within an eligible business sector operating out of a commercial premises or location. This support will assist eligible Victorian sole traders with overhead costs and utilities.
Please visit the Business Victoria website for full details on the eligibility criteria and advice on how to apply.
Business Support Fund - Round Three
As part of the Business Resilience Package, the third round of the Business Support Fund provides grants to support Victorian businesses impacted by extended coronavirus (COVID-19) restrictions.
Through this latest round of the Business Support Fund, eligible businesses can receive grants of either $10,000, $15,000 or $20,000 based on their annual payroll.
To view the eligibility criteria and to apply for the Business Support Fund visit the Business Victoria website.


Grants for Business Chambers and Trader Groups
Grants of $10,000, $20,000 or $50,000 are available to Victorian business chamber and trader groups for initiatives that enable local business collaboration, help members access support and transition into recovery and restart.

This program focuses on locally-led initiatives which use business chamber and trader group networks to empower local businesses and help members to transition and adapt their businesses to the new COVID Normal.

To be eligible for the grant, the business chamber or trader group must:
Be based in Victoria

Be a non-profit, business membership-based organisation (with a membership of businesses) that services a specific geographic area (e.g. a business zone, suburb or region)

Have the core purpose of acting for its members and promoting commerce in a specific geographic area

Hold a current Australian Business Number (ABN) and have held that ABN at 13 September 2020

Be registered with the responsible federal or state regulator or with the relevant local council.
Interested Victorian business chambers and trader groups are invited to submit an expression of interest by completing and submitting the form on this page no later than 5 October 2020. To find out more and to begin a preliminary application, please visit
-
https://www.business.vic.gov.au/support-for-your-business/grants-and-assistance/business-resilience-package/grants-for-business-chambers-and-trader-groups
Food and Beverage Export Guide - Helping Australian Farmers access Indonesian Markets
The Department of Agriculture, Water and Environment has recently launched the Australian Food and Grocery Council Export Guide for Indonesia.
The Guide – unveiled at a virtual AusTrade event - will help Australia's food and beverage exporters learn more about Indonesia's consumer trends, import compliance requirements and pathways to export.
Indonesia is projected to be the world's fourth largest economy by 2050, with per person consumption of key commodities like cereals and beef predicted to be greater than China.

The Guide has been produced through the Agricultural Trade and Market Access Cooperation (ATMAC) program in cooperation with Indonesia and can be downloaded here http://www.afgc.org.au

For more information about the ATMAC program, visit - http://www.agriculture.gov.au/market-access-trade/atmac
Free Financial Counselling Support for Regional Businesses

The Australian government has expanded its Rural Financial Counselling program to assist small regional businesses affected by COVID-19 to access free and confidential financial counselling. The program aims to help small businesses understand their financial position, identify options, implement plans and access the immediate assistance they need to
keep afloat and navigate the road to recovery.
This service is available to small regional business experiencing, or at risk of, financial hardship due to the impacts of drought or COVID‑19.
Small business financial counsellors can help:
understand the financial position and the viability of the business

identify options to manage the financial issues of the business

develop budgets and cash flows

create and implement an action plan to work towards the business goals

negotiate with lenders and access dispute resolution services

identify other government and community grants, programs or schemes

access broader professional advice and support.
This expanded program is currently running until 30 June 2021.To access the service, contact the Rural Financial Counselling Service for the south west and Wimmera region on 1300735578 or visit the website at www.wswrcs.com.au
Business Events and Short Courses
Managing Infection Control in your Business
South West TAFE is offering FREE accredited short courses in Infection Control to business employees in the Retail, Hospitality, Logistic and Transport Sectors.
The courses are a mix of online and workplace-based learning and participants will learn how to follow standard and additional precautions for infection prevention and control that can be applied in their roles, preventing the spread of COVID.

Participants will gain a knowledge of:
Hand hygiene practices

Use of personal protective equipment

Disposal of contaminated waste

Hazard identification, control and reporting

Appropriate protocols and responses in the event of an incident

Knowledge regarding the basis of infection and transmission.
The course includes a 2-hour Webex induction and participants have four weeks to complete self-paced online study with scheduled online check-in sessions.
To express and interest and/or enroll, please Visit the SW TAFE Website.
Regional Growth Project - Bundle Package
Miss attending the Regional Growth Summits live? You can still access all of the amazing content online! It's still FREE for all businesses within our community. Get inspired, hear amazing regional success stories and learn practical steps that you can take in your business to prepare for the future, save costs and stand out against the crowd.
Catch up on
The Regional Growth Summit - May 2020.

Tourism and the new visitor economy 2 part webinar series - July/ August 2020.

The Regional Growth Summit - September 2020
Make sure to join the Regional Growth Project Facebook Group to stay up to date, and access all the content for free here - http://bit.ly/RGP2020BundleC
using the passcode MoyneRGSPass
Are you a business owner in the Moyne Shire who benefits from visitors?
As a business who benefits from tourism in Moyne, the Great Ocean Road Regional Tourism (GORRT) in partnership with Visit Victoria and Moyne Shire Council is offering a FREE 12 month membership with GORRT and your local tourism association, backed by a team of tourism specialists if you register before the end of October 2020.

This includes more online exposure, marketing opportunities and advertising campaigns that aim to keep our region and your business top of mind.

For more detail on what's included for you and to gain local support, please call Council's visitor services team (Ashley or Renee): @portfairyvic Phone: (03) 5568 2682. Email: vic@moyne.vic.gov.au
For greater detail, visit the following webpage for more information on the offer: https://www.portfairyaustralia.com.au/atdw-subsidy

Remember, we are all in this together!
Prepare your Business for COVID - 19 Recovery with Localised
With COVID-19 restrictions slowly easing across regional Victoria, it is now more important than ever to ensure your business can be found by people looking to do business locally.
Localised is a FREE business directory and network designed to connect businesses across Moyne and the Great South Coast region.
By adding your business to Localised, you're putting your business in front of other business owners who are looking to do business in the region.
Plus enjoy a range of expert articles from local business owners looking to share resources and knowledge to support COVID-19 recovery.
JOIN LOCALISED NOW: https://greatsouthcoast.localised.com.au/moyne/
How to add your business to Localised: https://youtu.be/AQDe0t1ZUBc
Contact Us
For further information about our service or if you need help with accessing any of the resources provided, please contact Council's Economic Development Team: