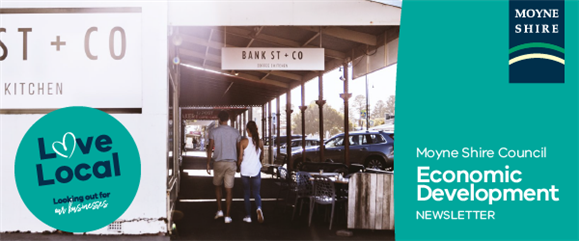 5th November 2020
Welcome!
Welcome to the November edition of the monthly Business e-newsletter.


In this edition we bring you the latest updates on Victoria's pathway to 'COVID Normal', information on Council's new 'Love Local' campaign to support businesses, statewide and regional support opportunities, events, news and more.


We want this newsletter to be valuable to you so please share your feedback and suggestions to help us improve.
Introducing 'LOVE LOCAL'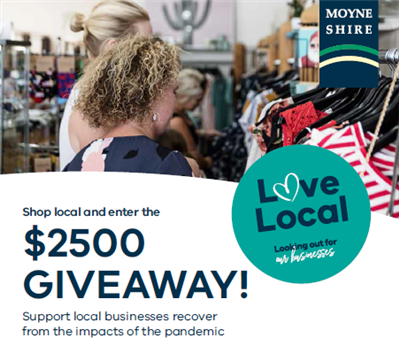 Council's new 'Love Local' campaign aims to support our small businesses to not only survive, but thrive, in recovering from the pandemic. The campaign encourages residents and visitors to spend locally and will include a range of marketing activities including digital and print advertising, social media and radio promotions. A series of consumer competitions are also planned as incentives to buy local. The first competition, which was launched on October 30 is proudly sponsored by the Port Fairy Community Bank.

How can you get involved?
Council are distributing Love Local promotional decals you can display at your business premises, along with a campaign flyer that tells shoppers how to enter the Love Local competition. If you wish to have one for your business and have not received it yet, please email ecodev@moyne.vic.gov.au and we will deliver or post one to you.

More Information
More Love Local competitions and incentive programs will be run by Council to support our local businesses in coming months. In the first competition, five lucky shoppers will win a $100 voucher in each of the first three weekly draws and four $250 vouchers will be on offer in the fourth draw.
As a business owner, if you would like to contribute to these future competitions – such as shopping vouchers, discount offers or two for one offers, please contact Council Business Recovery Officer Everard Himmelreich on 5568 0592 or at everard.himmelreich@moyne.vic.gov.au
To discover ways you can make the campaign work for you and your business, please visit - https://www.moyne.vic.gov.au/Our-Services/Economic-Development/Love-Local/For-Businesses

COVID Update - Regional Victoria's Pathway to 'COVID Normal'
From 11:59 pm Tuesday 27 October 2020 some restrictions in regional Victoria eased. For a summary of the State Government's Steps toward COVID Normal, please visit the Victorian government Coronavirus website. There are also some good compliance guidelines for industry sectors on the Business Victoria website. Information on Council services are available from our website - here as well as news and information from our Facebook page.
All businesses in Victoria must have a COVIDSafe Plan. For information and resources to help your business prepare a COVIDSafe Plan visit the Business Victoria website. Of particular interest for dairy farmers, please refer to this link - Victorian COVIDSafe Plan template for dairy farms.
Businesses must review and update their COVIDSafe Plans routinely, especially when restrictions or public health advice changes.

Moyne Business Facade Improvement Program
Applications for the Moyne Business Facade Program are now open.
Council is excited to introduce the Moyne Business Façade Improvement Program - offering local businesses a facelift to the tune of $5,000 - increasing the appeal of local streetscapes and encouraging capital investment in Moyne's town centres.
The grants are available on a $1:1 basis of up to $5,000 for businesses to do work on shop fronts or to their business premises.
For further information and full eligibility details, criteria and guidelines please visit -Moyne.vic.gov.au/facade or contact the Economic Development Team on 1300656564.
Innovate with NBN Grants Program
NBN in partnership with Regional Australia Institute (RAI) have launched the Innovate with nbn™ Grants Program to support regional tech-businesses that are using the nbn™ network to develop products or solutions that improve productivity or social outcomes for regional and remote Australians.

The Innovate with nbn™ grants program gives businesses across seven separate categories the opportunity to win a share of $95,000 in funding to support the development of their innovative, digitally led ideas. Categories are:
Health

Agriculture

Tourism

Arts

Education

Indigenous Business

Women in Regional Business
The winner of each category will receive a $10 000 grant, with the overall Innovate with nbn™ major grant of $25 000 to be awarded to the most outstanding application across all categories.
Applications are being accepted until 30 November 2020. More information, including eligibility criteria and the application form is available at
nbnco.com.au/innovatewithnbn
Licensed Hospitality Venue Fund
Liquor licensees who serve food and alcohol may be eligible for grants of up to $30,000 under the Licensed Hospitality Venue Fund.

Grants of up to $30,000 are available to eligible liquor licensees, based on venue location and patron capacity. Those eligible will receive an invitation to apply from Business Victoria at the email address used to sign up for an eLicence in their Liquor Portal account.

If you believe you are eligible and have not received an invitation to apply for a grant from Business Victoria, you may need to create a liquor portal eLicence account. For more information on creating an account, click the link below - Licensed Hospitality Venue Fund

Young
Farmer Mentoring Program - Applications Now Open!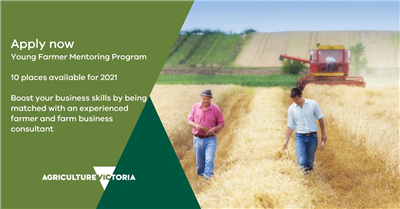 Do you sometimes wish you had an experienced and trusted fellow farmer that you could turn to for advice on running your farm business?
The Young Farmer Business Network and Agriculture Victoria are excited to announce their new Mentoring Program is now open to expressions of interest from young farmers and new entrants to farming.

The program will give ten Victorian young farmers or new entrants the opportunity to be paired with an experienced farmer who will act as their mentor for a 12 month period. The mentoring relationship will be overseen by a farm business consultant.
So what will you, the mentee, get out of this program?
6 -10 formal meetings with your mentor and facilitator

Assistance from your mentor in setting and working towards your business goals

A trusted confidant and source of information

The opportunity to continue the mentoring relationship beyond the program

The opportunity to expand your networks and meet the business consultants and other young and experience farmers involved in the program
More information including application details and program guidelines can be found on the Agriculture Victoria website.
Expressions of interest close on Thursday 5 November 2020.
The program will run from January to December 2021.
For more information please contact Sarah Wallis, Young Farmer Project Coordinator at youngfarmer.coordinator@agriculture.vic.gov.au or 0419 571 208.
Business Events and Workshops
We've partnered with Business Victoria to offer free online workshops for people wanting to start or grow a small business. Please see below for the list of workshops available for the the month of November.

Starting Your Small Business: how to make it happen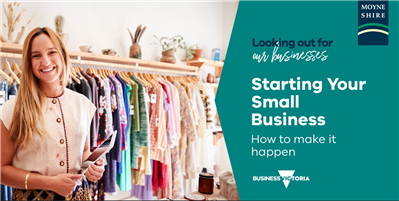 There are no guarantees in business, but often it's what you do before you get started that will ensure those vital first steps are on the right path for the best chance of success. Take the guesswork out of your next steps and get ready and fully prepared to get your business off to the right start at this practical three-and-a-half-hour workshop led by an experienced small business operator with real-life know-how and lots of insight to share.
Find out how to plan, prepare and test your business idea, step by step, in a small group setting that will equip you to make informed decisions about what you need to do next to minimise the risks and make the most of the opportunities that lie ahead.

Come away armed with practical tools and templates, expert tips and advice, and a head start on where to access the right support in future.

Get ready to take your business from idea to reality and onwards to success at this essential Business Victoria workshop, one of many that have helped small businesses get started in Victoria for more than 10 years.
Date: 20th November 2020
Time: 1:00 PM - 4:30 PM
To register, please visit -https://www.eventbrite.com.au/e/starting-your-small-business-how-to-make-it-happen-tickets-127663941285

Online access code will be sent to registered participants two days before the workshop.

Business Planning Essentials: how to build a roadmap to success

You wouldn't set out on a road trip without a map. The road to business success is no different. Without a map to guide you, you're flying blind and just as likely to end up lost or facing down a dead end. So, take the guesswork out of your next steps and fast track your business towards success at this practical two-hour workshop that will show you how to clarify your long-term goals into a solid business plan.

Date: 23rd November 2020
Time: 10:00 AM - 12:00 PM
To register, please visit
-https://www.eventbrite.com.au/e/business-planning-essential-how-to-build-a-road-map-to-success-tickets-125113358423

Online access code will be sent to registered participants two days before the workshop.
Wannon Water wants your feedback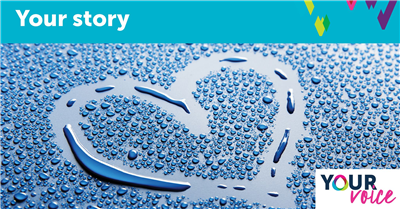 Wannon Water is seeking your feedback for its 2020 Engagement Cycle and the Great Tasting Water Project.

Wannon Water Engagement Cycle 2020
As part of its annual engagement process, Wannon Water is interested in your thoughts and ideas on its Price Submission, Urban Water Strategy and your experiences as a Customer. To submit your feedback on the Wannon Water Engagement Cycle 2020, please visit - https://wannonwater.mysocialpinpoint.com.au/wannon-water-engagement-cycle-2020

Great Tasting Water Project
Wannon Water's Great Tasting Water project is focused on enhancing the lives of residents in Port Fairy, Portland and Heywood by reducing the mineral salts in the town water supply. Over the next few weeks, you can be part of this discussion by
Wannon Water representatives will also be at the at the Port Fairy market on Saturday 7 November.
Mapping our way to a circular economy
Reducing waste and litter can be a serious challenge. That's why Moyne Shire Council has partnered with Barwon South West Waste and Resource Recovery Group and the other Councils in the Barwon South West region to build a regional Zero Waste Map map.reduce-recycle.com.au.

The map will support the circular economy by connecting the community with local organisations providing goods and services that reduce the amount of materials going to landfill.
You can help build the map by registering your organisation today at map.reduce-recycle.com.au (Note: there is no www at the start of this address).
Prepare your Business for COVID - 19 Recovery with Localised
With COVID-19 restrictions slowly easing across regional Victoria, it is now more important than ever to ensure your business can be found by people looking to do business locally.
Localised is a FREE business directory and network designed to connect businesses across Moyne and the Great South Coast region.
Adding your business to Localised will create greater exposure to other operators who are looking to do business in the region.
Plus enjoy a range of expert articles from local business owners looking to share resources and knowledge to support COVID-19 recovery.
JOIN LOCALISED NOW: https://greatsouthcoast.localised.com.au/moyne/
How to add your business to Localised: https://youtu.be/AQDe0t1ZUBc
Contact Us
For further information about our service or if you need help with accessing any of the resources provided, please contact Council's Economic Development Team: