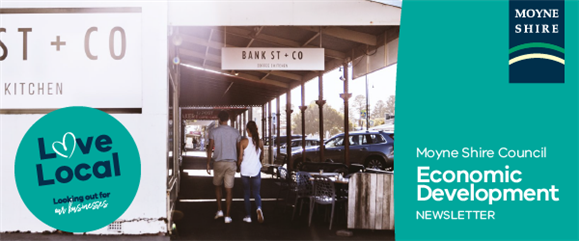 2nd December 2020
Welcome!
Welcome to the December edition of the Business e-newsletter.

In this edition we bring you the latest updates on Victoria's pathway to 'COVID Normal', information on Council's 'Love Local' campaign to support businesses, statewide and regional support opportunities, events, news and more.

We wish you all the best for the festive season and look forward to supporting our vibrant local economy in 2021.

COVID Update - Victoria has moved into the 'Last Step' of Restrictions
From 11:59 pm Sunday 22 November 2020,The Victorian Government announced further easing with key changes for businesses.

For more detail on these changes, please see the

Summary of Last Step Restrictions.

There are some good compliance guidelines for industry sectors on the Business Victoria website. Information on Council services are available from our website - here as well as news and information from our Facebook page.


All businesses in Victoria must keep an updated COVIDSafe Plan at all times and follow strict Covid hygiene practices. For information and resources to help your business prepare a COVIDSafe Plan visit the Business Victoria website.


The Victorian Government will provide a further update on restrictions on Sunday 6 December, for the next steps to move towards a COVIDSafe Summer.
$5000 Christmas Gift Voucher Giveaway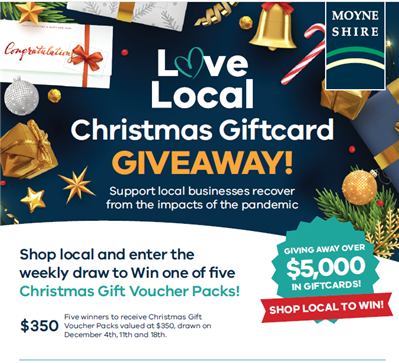 Council's 'Love Local' campaign has launched a Christmas Gift Voucher Giveaway competition to capture more of the Christmas spend for local businesses.

Five Christmas Gift Voucher Packs, each with $350 of vouchers to spend at local businesses, will be won at each of three weekly draws to be held during December.

Draws will be held on December 4, December 11 and December 18. The Christmas Giftcard Giveaway is sponsored by Origin Energy.

The campaign will again include a range of marketing activities including digital advertising, social media and radio promotions, all under the "Love Local" brand.

How can you get involved?
Council is distributing a campaign flyer that you can display at your business premises to tell shoppers how to enter the Love Local competition. If you wish to have one for your business and have not received it yet, please email ecodev@moyne.vic.gov.au and we will deliver or post one to you.

Entry for the Christmas Gift Voucher Giveaway will be the same as for the first Love Local shopping competition. Shoppers simply need to get a receipt showing they've spent $20 or more at a Moyne-based business to go into a draw to win. Customers can enter the competition by simply submitting a copy of their receipt to moyne.vic.gov.au/lovelocal They can also enter by dropping their receipt with their name, phone number and postcode on the back to:
Port Fairy Visitor Information Centre

Koroit newsagency

Mortlake Caremore Pharmacy

Community Bank Port Fairy

Council's Mortlake and Port Fairy customer service centres



For more information about the Christmas Gift Voucher Giveaway, please contact Council's Business Recovery Officer Everard Himmelreich on Ph 5568 0592 or at everard.himmelreich@moyne.vic.gov.au
First Peoples' COVID-19 Business Support Fund
The Victorian Government has announced new funding available to help Victorian aboriginal small businesses affected by the coronavirus (COVID-19) pandemic get back on their feet.

The Fund can be used to help meet business costs including rent and salaries, develop marketing activities or pivot the business offering in response to the current environment.
To be eligible, businesses must be a certified Victorian Aboriginal business
through Kinaway Chamber of Commerce Victoria.
Eligible businesses will be provided with a one-off grant of up to $10,000.
For further information, or to apply please contact the Business Victoria Hotline on 13 22 15 or go to Business Victoria.
Small Business Digital Adaptation Program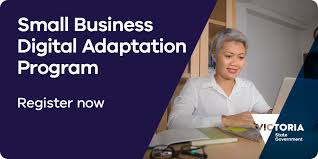 The Small Business Digital Adaptation Program will allow eligible businesses to trial and then receive access to digital products, tools and training they can use to build digital capability in their day-to-day operations.

Products currently available to businesses through this program include website, e-commerce and finance tools. The program also offers free digital adaptation training and workshops.
Businesses can start using a new product, like point-of-sale payment, or restore access to a lapsed product under this program. Upgrades to existing digital tools, like adding a shop to a current website, are also included. Businesses will be able to register, and trial selected digital products from suppliers who have partnered with the Victorian Government, then choose one of these products to purchase. Once businesses have purchased a product, they can apply for a rebate of $1,200 to access the product for 12 months.

Spaces for the Small Business Digital Adaptation Program are limited. You must register to be eligible for the program and access digital product suppliers. To find out more, read the program guidelines and frequently asked questions (FAQs) on the Business Victoria Website

Sole Trader Support Fund deadline extended
Applications for the Sole Trader Support Fund are now open until 30 December to assist more sole trader businesses in specific industries with their transition to COVID Normal. Grants of $3000 are available to help with overhead costs.
Visit the Business Victoria website for full eligibility criteria and information on how to apply.
Outdoor Eating and Entertainment Grants
Do you own a hospitality business? You may be eligible for a grant of $5,000 towards the cost of creating a safe outdoor dining space through the Outdoor Eating and Entertainment Package.

Grants can be used to pay for equipment, convert outdoor spaces into hospitality zones and remodel internal layouts to allow for better flow of patrons. Recipients can also use grants for training, marketing and other costs of adapting new, expanded or enhanced outdoor dining.

Check eligibility before you apply on the Business Victoria Website
Applications will remain open until funds are exhausted or until 11.59pm on 11 December 2020, whichever is earlier.

Solar Rebates for Businesses
In support of the Renewable Energy transition, the Victorian Government is offering a rebate and loan scheme for small business in Victoria. This program will support small businesses in Victoria to lower their energy bills and support jobs.
Eligible small businesses will be able to receive a rebate of up to 50% of the cost of a small PV system, with an option for an additional loan of equal value. The total rebate value will also be dependent on the appropriate size of the system for the business.
Solar Victoria is working with Business Victoria and industry bodies to design the roll-out of the program and further details on business eligibility and rebate values will be provided in early 2021.
Call Out for Visitor Accommodation Waste Info Packs
Do you manage holiday visitor accommodation? We can send you a visitor waste info pack to help visitors put their waste in the right bins during their stay.
Many visitors to Moyne Shire don't know we have a 4 bin kerbside waste collection.

This holiday season help your visitors put their waste in the right bin and help keep our environment clean with our handy magnet, information sheet and more.

Contact us to request an info pack at moyne@moyne.vic.gov.au.
Prepare your Business for COVID - 19 Recovery with Localised
With COVID-19 restrictions slowly easing across regional Victoria, it is now more important than ever to ensure your business can be found by people looking to do business locally.
Localised is a FREE business directory and network designed to connect businesses across Moyne and the Great South Coast region.
Adding your business to Localised will create greater exposure to other operators who are looking to do business in the region.
Plus enjoy a range of expert articles from local business owners looking to share resources and knowledge to support COVID-19 recovery.

JOIN LOCALISED NOW: https://greatsouthcoast.localised.com.au/moyne/

How to add your business to Localised: https://youtu.be/AQDe0t1ZUBc
Business Events and Resources
We've partnered with Business Victoria to offer free online workshops and resources for people wanting to start or grow a small business. The list of workshops available in December is below.

The Female Business Leader 2020
Global Victoria Women is hosting a free online seminar on 2 and 3 December. The Female Business Leader in 2020 brings together amazing speakers to discuss how they've navigated their business and innovated through the coronavirus (COVID-19) pandemic. Find out more and reserve your spot in the free seminar here - https://global.vic.gov.au/for-exporters/programs-and-initiatives/victorian-women-in-international-business
Workforce Planning and HR Templates

Are you looking to hire an extra pair of hands (or two) to help you get through the busy Christmas and New Year period? Before you begin the recruitment process, start by determining where there are gaps in your business, how a potential employee can fill them and what you would like to get out of hiring your next Christmas casuals. If you need some pointers, check out the Business Victoria new workforce planning and HR templates page to access the resources.

Free Trade Advantage - A practical Guide to Free Trade
In 2020 Australia signed four
Free Trade Agreements
(FTAs) with Hong Kong, Peru, Indonesia and the Pacific to improve
export
access and benefits for Australian business.


To help you understand the countries and sectors where
#ausbiz
have a competitive advantage created by FTAs, the Australian Trade and Investment Commission has launched the 'Free Trade Advantage' - a free online learning platform
with 120 training resources and modules to help Australian businesses access the benefits of Australian FTAs. To find out more visit - https://www.austrade.gov.au/australian/how-Austrade-can-help/trade-services
Contact Us
For further information about our service or if you need help with accessing any of the resources provided, please contact Council's Economic Development Team: