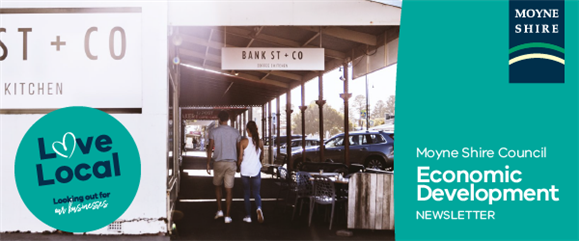 12 February 2021
Welcome!
Welcome to the February 2021 edition of the Moyne Business e-newsletter.

In this edition you'll find information about the latest COVID-19 restriction changes, Council's 'Love Local' campaign, business grants, events, business profile, an update on Council's Economic Development Advisory Committee and more.

If you would like any further information on any of the articles, or would like your business profiled, please contact the Economic Development and Tourism team.

COVID-19 Update - New Statewide Restrictions
From 11:59pm on 3 February new statewide restrictions are in effect. These include:

Mandatory facemasks for in indoor spaces, including workplaces and

in airports, hospitals, large retail stores over 2000 sq.m, shopping cent

res, indoor markets, in taxis and rideshares, on public transport, and on domestic flights to and from Victoria.

The 75%'return to work' cap for the private sector scheduled for Monday 8 February is paused and the current cap of 50% will remain in place.
Please review and update your COVIDSafe Plan at all times and follow strict Covid hygiene practices. For information and resources to help your business prepare a COVIDSafe Plan visit the Business Victoria website.
To find out more about COVIDSafe Summer and the new restrictions please visit the Victoria Government Coronavirus website.
Moyne Escape Packages
The next Moyne Escape Packages competition draw is scheduled for Friday, February 12 and a second draw will be held on March 12. Twenty-two prizes will be on offer in each draw.

For more information on the campaign and how to submit entries for the competition, visit Council's website at moyne.vic.gov.au/lovelocal
The Moyne Escape Packages competition is sponsored by our Gold sponsors (Bega Cheese, Tilt Renewables, Origin, Global Power Generation), Silver sponsors (SunPharma, Acciona, Woolsthorpe Wind Farm) and Bronze sponsors (The Midfield Group, AGL).

Economic Development Advisory Committee (EDAC) Update
In 2020 an Economic Development Advisory Committee (EDAC) was established comprising business/ industry representatives to promote the culture of economic development in Moyne as well as supporting business recovery.
The committee provides local and geographically balanced input and a diverse industry perspective to Council's long term economic vision and shorter term Action Plan. For more details on EDAC achievements for 2020 can be found at Council website.

You are encouraged to engage with the committee regarding any ideas they have to boost economic growth and stimulate economic development and tourism in Moyne.

Your committee representatives are; Fiona Castley, Mark Gervis, Melissa Maher, Michael Steel, Tim Clingan, Mayor Cr Daniel Meade, Cr Karen Foster. Alternatively, you can contact Jennifer Thomas, Economic Development Officer on 03 55680573.

The next EDAC next meeting will be held on Thursday 18 February 2021.
Small Business Digital Adaptation Program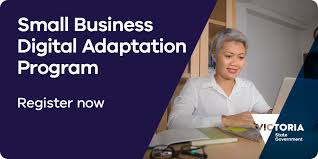 The Small Business Digital Adaptation Program allows eligible businesses to trial and then receive access to digital products, tools and training, to build digital capability in their day-to-day operations.

Eight new providers have joined the Small Business Digital Adaptation Program, including Australian Good Food Guide, Ecwid, QuickBooks, Lawpath, Reckon, Servicem8, Trade Trak and Victorian Automobile Chamber of Commerce. Products currently available to businesses through this program include website, e-commerce and finance tools.

Businesses can start using a new product, like point-of-sale payment, or restore access to a lapsed product under this program. Upgrades to existing digital tools, like adding an online store to a current website, are also included.
Businesses will be able to register and trial selected digital products from suppliers who have partnered with the Victorian Government, then choose one of these products to purchase.
Once businesses have purchased a product, they can apply for a rebate of $1,200 to access the product for 12 months.

Spaces for the Small Business Digital Adaptation Program are limited. You must register to be eligible for the program and access digital product suppliers.

Registrations will remain open until funds are exhausted or

until 11.59pm on 28 February 2021

, whichever is earlier.


To find out more, read the program guidelines and frequently asked questions (FAQs) on the Business Victoria Website
First Peoples' COVID-19 Business Support Fund Deadline Extended
Applications for the First Peoples' COVID-19 Business Support Fund have now been extended to 26 March 2021. Aboriginal businesses that have been affected by the pandemic, e.g. through temporary closure or trading restrictions, can apply for grants of up to $10,000 to help them get back on their feet. Explore eligibility criteria and how to apply on the Business Victoria website.
Partners in Wellbeing Helpline 
The Partners in Wellbeing helpline is a free and confidential service provided by the Victorian Government to help small business owners, business employees and advisers receive the mental health support they need in dealing with the challenges of the coronavirus pandemic.
The helpline also provides small business owners with advice on managing debt and financial issues.
Contact the Partners in Wellbeing team on 1300 375 330 for assistance between 9am and 10pm on weekdays, and 9am to 5pm on weekends.
Business Events and Resources
Council has partnered with Business Victoria to offer free online workshops, trainings and resources for people wanting to start or grow a small business. Below are a list of some of the workshops currently available. If you're seeking training in another business topic, Upskill My Business has a range of other courses for you to explore.
Victorian SBE Evolve COVID-19 Relief Program
Applications are now open for a one-off SBE Evolve COVID-19 Relief Program supported by LaunchVic.

The Program is aimed at building stronger women-led, technology-based businesses. These businesses, with high impact potential, could be further supported by giving female founders the right knowledge, tools and support to flourish. The program is delivered over 8-weeks starting 18 February 2021.

Register today -
https://sbeaustralia.org/pages/vic-sbe-evolve-covid-19-relief-program
Looking for Wider business Networks?
Join the Business Victoria Facebook page -
I am a small business owner in Victoria, Australia
and connect with over 20,000 members of Victoria's small business community. Click on the link to join the community today - https://m.facebook.com/groups/businessvic
Business Profile  -  Mortlake Organic Dairy
Mortlake Organic Dairy is a new joint venture between L'Artisan Cheese and Symons Organic Dairy, producing a range of organic and artisan cheeses. Business partners Matthieu Megard and Bruce Symons decided to expand their companies into Mortlake because of the workforce potential of the town and its proximity to quality organic milk. Together they produce the region's best artisan and organic cheese range including:
L'Artisan washed rind cheeses such as Mountain Man, Le Rouge.

Soft white mould cheeses such as the brie-style Grand Fleuri, Marcel and the triple cream extravagant.

French style larger wheels of Raclette, Gruyere and Fermier with its distinctive ash layer.

Organic haloumi and Symons Organic Dairy's award-winning parmesan.

During 2021, the factory plans to commence producing organic mozzarella and cheddar.
The business is operating from the former Clarkes Pies factory at 106 Dunlop Street, Mortlake. Currently the site does not have an outlet shop, but locals can buy their cheese from the Mortlake IGA or Bouchier Butchers. Keep an eye out for pop-up outlet shops on social media.

For more information about this business, contact Bruce at bruce@mortlakeorganicdairy.com.au or check the websites of www.symonsorganicdairy.com.au and www.lartisancheese.com.au or Facebook page. https://www.facebook.com/symonsorganicdairy/ and https://www.facebook.com/LArtisanCheese
Contact Us
For further information about our service or if you need help with accessing any of the resources provided, please contact Council's Economic Development and Tourism Team on 03 1300 656 564 or g
eneral inquiries can be emailed to
ecodev@moyne.vic.gov.au