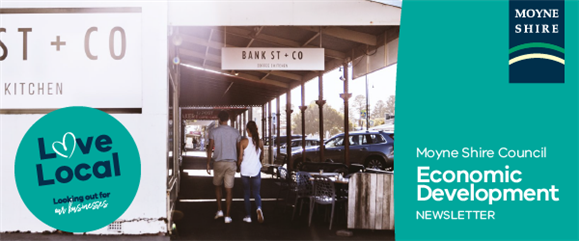 January 2021
Welcome!
Welcome to the January 2021 edition of the Moyne Business e-newsletter.

With 2020 being a challenging year for many businesses and communities across our great Shire, we hope that 2021 will be kinder to us all.

This month's edition features the latest updates on Victoria's CovidSafe summer, information on Council's 'Love Local' campaign to support tourism and hospitality businesses, The Moyne Business Facade Grant update, and more.

Through this newsletter, we hope to keep you informed about a range of programs, news and opportunities. Stay tuned.

COVIDSafe Summer Update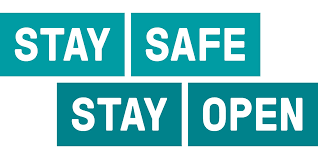 Face Masks
From 11:59pm on Sunday 17 January face masks are no longer mandatory in most public indoor settings. Face masks continue to be mandatory in airports, hospitals, large retail stores over 2000 sq.m, shopping centres, indoor markets, in taxis and rideshares, on public transport, and on domestic flights to and from Victoria.
Face masks must still be carried on you when you leave home. It is strongly recommended that you wear one whenever you cannot keep 1.5 metres distance from others.
Record Keeping - QR Code Service
A free QR code service from the Victorian Government is available for all Victorian businesses and venues. Business and workplace are required to collect contact details from patrons to help contact tracers in the event a positive case of coronavirus (COVID-19) is identified. Register your business to receive your QR code here - https://www.coronavirus.vic.gov.au/qrcode
CovidSafe Plans
All businesses in Victoria must keep an updated COVIDSafe Plan at all times and follow strict Covid hygiene practices. For information and resources to help your business prepare a COVIDSafe Plan visit the Business Victoria website.
To find out more about COVIDSafe Summer restrictions please visit the Victoria Government Coronavirus website.
Moyne Escape Packages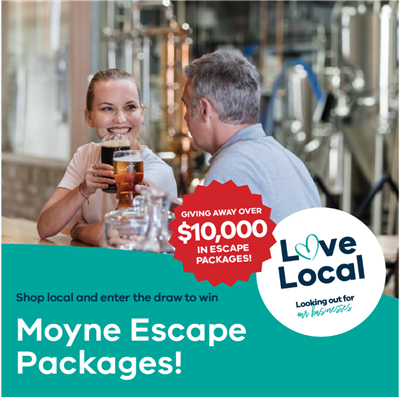 In January, Council launched its third Love Local shopping competition, Moyne Escape Packages, to continue its support for Moyne businesses as they recover from the impacts of the pandemic.

The Moyne Escape Packages competition aims to help local tourism and hospitality businesses that have been hard it by the pandemic. If offers $10,000 in prizes with each prize including a voucher to a local country hotel and a voucher to a local visitor experience. The visitor experiences include fishing charters, boat cruises and guided walks at Tower Hill and Budj Bim. The competition runs from January 15 to March 11 and will have two draws, one on February 12 and the final draw on March 12.

Entry conditions remain the same as the previous Love Local competitions - shoppers who spend $20 or more at a Moyne Shire business can enter by submitting a copy of their receipt to www.moyne.vic.gov.au/LoveLocal on Council's website, accompanied by their contact details. Shoppers can also drop their receipt with their name and phone number on the back into numerous entry boxes throughout the shire. Entry box locations are on the www.moyne.vic.gov.au/LoveLocal webpage.

The Moyne Escape Packages competition is sponsored by our Gold sponsors (Bega Cheese, Tilt Renewables, Origin, Global Power Generation) , Silver sponsors (SunPharma, Acciona, Woolsthorpe Wind Farm) and Bronze sponsors (The Midfield Group, AGL).

Moyne Business Facade Program
Successful applicants to the Moyne Business Facade Program are advised to return signed copies of the Funding Agreement to Council as soon as possible.

All successful applicants must sign the Funding agreement that includes the agreed schedule of works and incentive sum (inclusive of GST), prior to the commencement of works.

Council will not grant funds retrospectively to works completed prior to the approval of the Agreement.

Funding Agreements were posted to successful applicants on 22nd December 2020. If you have not received the letter, please contact Jennifer Thomas, Economic Development Officer on 03 55680 573.

Disaster Resilience Toolkit
Did you know that preparation for dealing with crises is the same regardless of what the disaster or incident is?

Business Victoria has launched an easy-to-use disaster resilience for business toolkit that will help you identify what will make your business resilient to disasters, understand how you can prepare before a disaster, keep your business trading safely during a disaster, and get your business back up and running after a disaster.
The more you know about what could disrupt your business, the more you can do to prevent it.

Use the checklist for business response and continuity to help you when disasters strike.
Complete the toolkit to help your business be more resilient to future disasters.
Business Events and Resources
Council has partnered with Business Victoria to offer free online workshops, trainings and resources for people wanting to start or grow a small business. Below are a list of some of the workshops available in in January. If you're after training in another business topic, Upskill My Business has a range of other courses for you to explore.
Digital Harvest - a training program for Agri-food Businesses

Digital Harvest is a training program funded by Agriculture Victoria and delivered by La Trobe University to support farmers and producers to develop and enhance their e-commerce skills. Delivered fully online and at no cost to participants, the program will support a wide range of sectors, including farming, cropping, broadacre, farmgate, community growers, and distributors.
Over the twelve weeks, you'll receive insights from experts in Agribusiness development, sales, retail, eCommerce and digital marketing.
You'll also gain access to a growing virtual library of expert-led resources on key topics including digital strategy, analytics, email marketing, SEO & SEM, social media, storytelling, and more.

Registration are now open and will close on 28 January, 11:59pm. Register for the training here - https://upskill.business.vic.gov.au/upskill/digital-harvest/
Contact Us
For further information about our service or if you need help with accessing any of the resources provided, please contact Council's Economic Development Team: